Professional Chiropractic Care
Start your natural health journey now. Our top priority at Fullness of Life Chiropractic is your full health. Contact us for additional information on healthy lifestyle benefits.
Peosta, IA's Trusted Chiropractor Comprehensive Chiropractic Service
No matter what is causing your pain, our team of experienced and dedicated chiropractors are here to help. At Fullness of Life Chiropractic, we provide a wide variety of treatments to ensure you receive the care you need. We specialize in manual adjustments, muscular therapy and rehabilitation exercises to help correct misalignment and improve overall well-being.
Our chiropractic team provides personalized care for patients of all ages, from newborns to seniors. We believe in taking a holistic approach to treatment, treating the entire body rather than just the symptoms. Our treatments are designed to improve your overall health and reduce pain through a combination of manual adjustments, nutritional advice, rehabilitative exercises and lifestyle counseling.
We understand that every patient is unique and that pain can be caused by a variety of factors. That's why we take the time to listen to your concerns, develop a thorough understanding of your health history and create a customized treatment plan based on your individual needs. 
Pay us a visit to get started on your journey to improved health and increased vitality.
About Peosta, Iowa
Peosta, Iowa is located in Dubuque County. The town prides itself on its commitment to education, with a variety of higher learning opportunities located in the area, including Clarke University and the University of Iowa. The Peosta city government is dedicated to providing high-quality services while preserving an atmosphere of rural tranquility for all citizens.
Peosta is a vibrant town with plenty of activities for residents and visitors alike. There are numerous parks and recreation centers in the city, as well as historical sites such as the National Mississippi River Museum & Aquarium. Whether you're looking for a place to relax and enjoy nature or are seeking an exciting day of adventure, Peosta has something for everyone.
From its strong education system to its industrial growth, Peosta is a vibrant city with plenty of potential. With so much to offer, it's no surprise that more and more people are deciding to call the City of Progress home. Whether you're looking for a place to settle down or just visiting, Peosta is sure to leave a lasting impression!
At Fullness of Life Chiropractic, we offer locals, residents, and tourists in Peosta, Iowa comprehensive chiropractic care. Our team of experienced chiropractors takes a holistic approach to healthcare, focusing on the whole person rather than targeting individual symptoms. We believe that true wellness can only be achieved through structural correction and balance in the body. 
Call us to learn how we can help you!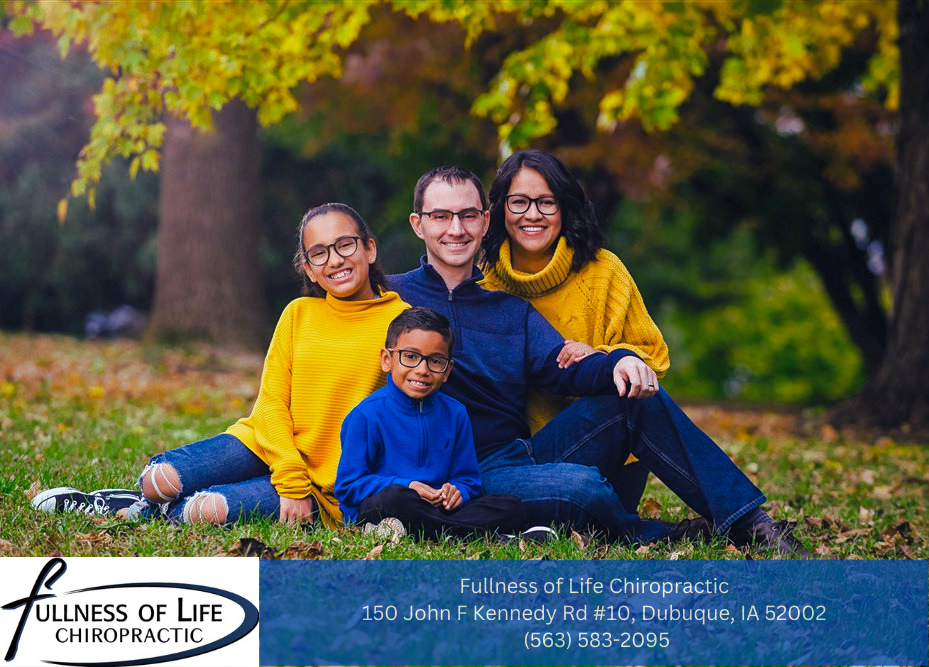 Holistic Approach to Relieving Spinal Discomfort: Back Pain, Neck Pain, Sciatica, and Scoliosis Solutions
Are you tired of living with constant back pain, neck pain, sciatica, or scoliosis? It's time to take a holistic approach to relieving your spinal discomfort. Instead of just treating the symptoms, let's explore solutions that address the root causes and provide long-lasting relief.
A holistic approach means looking at your body as a whole and understanding how different factors can contribute to your spinal discomfort. By considering factors such as posture, muscle imbalances, lifestyle habits, and emotional well-being, we can develop a comprehensive plan to alleviate your pain.
Back Pain
Are you dealing with back pain? Our chiropractic clinic offers a variety of treatments that can help alleviate back pain and improve your overall spinal health. Whether it's manual manipulation, electric stimulation, or massage therapy, our experienced team will work with you to develop an individualized plan for relief.
Back pain can be caused by numerous factors, including poor posture, trauma or injury, arthritis, degenerative disc disease, poor nutrition or even stress. Our team of experienced chiropractors will assess the underlying cause of your back pain and develop a plan that works for you.
Our solutions often include joint manipulation, soft tissue therapy, corrective exercises and spinal adjustments – all aimed at helping to reduce inflammation, improve mobility and get you back on track as quickly as possible.
Neck Pain
If you're experiencing neck pain, we have the treatment plan specifically tailored to your needs. We understand that neck pain can be caused by a variety of factors, such as poor posture, trauma or injury, muscle tension, stress, and even an underlying medical condition.
Our chiropractor will work with you to identify the root cause of your discomfort before developing a plan that works for you. Solutions may include joint manipulation, massage therapy, corrective exercises, and electric stimulation – all designed to help reduce inflammation, improve mobility, and get you feeling better soon.
Sciatica
Sciatica can be a debilitating condition that causes pain in the lower back and radiates down one or both legs. Our experienced chiropractors understand the science of sciatica and are here to provide you with the help and relief you need. We will assess your condition and develop a treatment plan that works for you.
Solutions may include joint manipulation, corrective exercises and stretching, soft tissue therapy, heat or cold application – all aimed at reducing inflammation, improving mobility and providing lasting relief.
Scoliosis
Scoliosis doesn't choose age, gender or ethnicity–it can affect anyone. Our experienced chiropractor is here to help if you're experiencing discomfort from scoliosis. We work with each patient individually to develop a treatment plan that works for them and their condition.
There are a bunch of different ways to address this condition. Some options include doing exercises to correct your posture, trying out spinal decompression therapy, getting some joint manipulation, or going for soft tissue therapies. The goal here is to bring down inflammation, improve how well you can move, and give you long-lasting relief.
We believe in empowering you with the knowledge and tools necessary for self-care. Alongside our treatment recommendations, we will educate you on proper body mechanics and ergonomic practices that can help prevent future episodes of spinal discomfort.
Don't let any pain or any other spinal issue hold you back from living life to the fullest. Take charge of your well-being by embracing a holistic approach to relieving spinal discomfort. Contact us today for an assessment and start your journey towards a healthier spine and a happier life.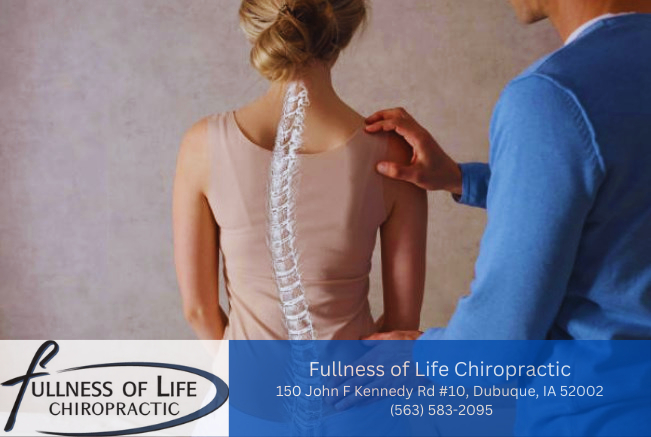 We Provide a Wide Range of Chiropractic Care in Peosta, IA
Extremities (Ankle, Arm & Leg, Knee, Hip, Shoulder & Carpal Tunnel)

Pediatric

Pregnancy

Wellness Care

Injuries (whiplash, Disc Injury, Work Injury, Car Accident)

Spine
Why Our Patients Choose Us for Chiropractic Care
At Fullness of LIfe Chiropractic, we specialize in effective solutions for musculoskeletal issues, including back pain, neck pain, sciatica, and scoliosis.
Our chiropractor is dedicated to relieving pain and restoring peak physical function in a safe, natural way. We tailor treatment plans to meet our patients' individual needs, and we provide gentle, precise adjustments that are designed to address the source of discomfort.
We understand the importance of making our patients feel comfortable. Our office environment is clean, modern, and inviting. Our staff is friendly and knowledgeable. We take the time to get to know each patient's needs so that we can provide personalized care.
Our patients appreciate our use of advanced technology. We employ state-of-the-art equipment to better assess and diagnose musculoskeletal issues, allowing us to accurately target the source of pain and distinguish between serious medical issues and muscular imbalances.
At Fullness of Life Chiropractic, we are committed to providing our patients with safe, effective treatments that help them get back on their feet quickly. Our convenient office hours make it easy for our patients to stay on track with their treatment plans. Plus, we provide personalized care plans that are designed to meet the unique needs of every patient.
Give Us a Call for Expert Chiropractic Care in Peosta, IA!
If you're looking for a reliable, professional chiropractic team to help manage your pain, look no further than Fullness of Life Chiropractic. Contact us today to schedule an appointment and get started on the path to feeling great!